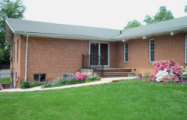 The Silver Spring Church of God website is for members, visitors, and any who would like to share in the good news of salvation through Jesus Christ! It will be a blessing to you and your family.
The Silver Spring Church of God is Pentecostal and is a ministry of The Church of God with offices located in Cleveland, Tennessee. Have a nice stay!

Silver Spring Church of God
2106 Linden Lane
Silver Spring, MD 20910
301-608-9597
Our Mission
To find someone who is hurting, lonely, desperate, and out of relationship with Christ and to bring that lost one home.
Our Goals
To reach the least and the lost through:
Evangelism (Reaching out)
Discipleship (Teaching)
Leadership (Training)
Stewardship (Sending)
And he arose and came to his father. But when he was still a great way off, his father saw him and had compassion, and ran and fell on his neck and kissed him.
Luke 15:20
If you would like to know more about our church, if you need prayer, or if you would like someone to visit you, please call us or write us at the address above.

Jesus said to him, "I am the way, and the truth, and the life. No one comes to the Father except through me." (John 14:6 ESV)